So you love Clinton? Join his Idolblog Fan Club today!
Leave your messages of support and good will here...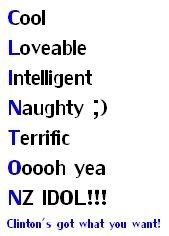 WOHOO! He's made the top eight :D
Top ten song: Superstition
Top nine song: Knocking on Heaven's Door
Top eight song:
Member list
Anjelus: President
Flirty_skirty: Personal Assistant ;)
Kimmeh: Coffee Maker
Sarah_Hart: Clinton's Top 50 friend
Zuki: masseur
Angel of Music: Warm up act
Northland Boi: Random fan
Admin: Fun to be around!
BIMI
xtinarox
Mandie
leesnak
Idolbabe
Loyal
chipz85
vagana
...Rachie...
jaimeP
Jaynee - Bopper
Carole - perverted older sister lol - Alyces not Clintons obviously haha!
fivestarfallout fan: hang out buddy
luv ya rongo: fling on the side
Clinton is so hot
Kayzie
panic at the nz...
Scap
Tittiman
...Manda...
chevy - one of the bros
idolangel_x13
Tuikiwi - Personal Assistant #2
YO CLINTON!!! If you have a free mintue please feel free to answer the questions below for us xox!
*Questions for Clinton*
"Clinton, who from the top ten (other than yourself), brought sexy back?" (Kimmeh)